A lot of things about adulthood have surprised me—how much mirrors cost, how quickly the vegetables in my fridge go bad, how I feel in the morning after drinking two glasses of wine. But very few things have surprised me as much as Abercrombie jeans becoming my most-worn pants again at the ripe old age of 26.
It's not a secret that Abercrombie & Fitch has done a complete rebrand, and has had a comeback that very few retailers have managed to nail. From their mission to their sizing to their clothes, the Abercrombie of today is a far cry from the one that you knew back in middle school (though we really did love it then too). Now, it's all grown up, and if you've been on social media in the past two years, you probably know that Abercrombie jeans are in the running for the most-loved on the internet.
With an affordable price tag, high quality, dozens of variations, and sizing that ensures anyone can find a pair that fits just right, Abercrombie jeans have gone viral for a good reason (and speaking from experience, they really do deserve the hype). But with so many options, how do you know which pair is for you? That's what me and my fellow editor Beth sought to answer.
Dad jeans, mom jeans, relaxed jeans, '90s jeans—they all sound similar, and it can be hard to decide which you want for yourself (and what size is going to fit you best). As women of the people, Beth and I ventured to our closest Abercrombie to try on every single pair they had, and broke down what makes them different, who they're best for, and gave the nitty gritty on the sizing.
Our Editors Tried Every Pair of Abercrombie Jeans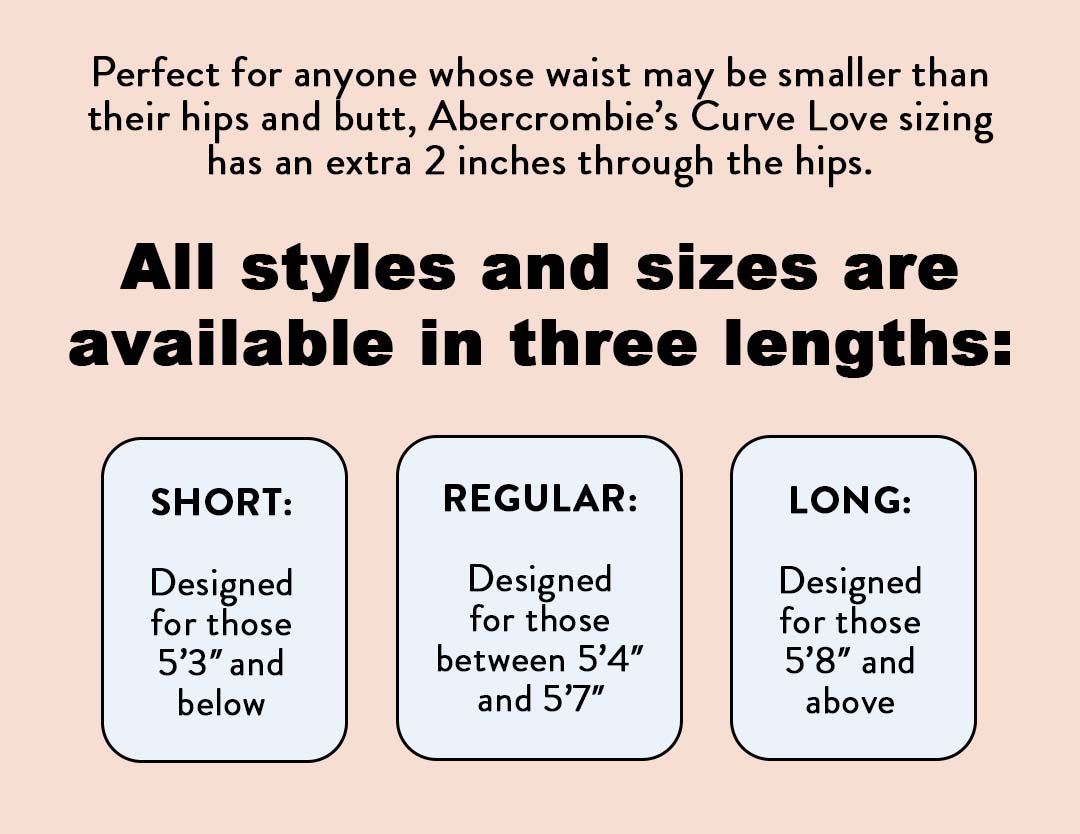 M:
These are my own jeans that I've had for over a year that I wore to the store. Of all my jeans, these are by far my most-worn. They're a thicker material that feel truly vintage, and it's always been on my list to pick them up in more washes. I'm 5'5″, and the regular length are the perfect full length on me without being so long they bunch up. I also find them to be a classic straight fit, without the legs being too tight or veering into being wide-leg.
I find these to be some of the most flattering straight-leg jeans I've ever owned. If I had to come up with a complaint about them, I don't think I could. I have dozens of jeans and reach for these almost every time I get dressed, and I think that says it all. If you haven't tried these, you would be doing yourself a favor to pick them up. These truly rival options that are 2-3 times the price.
B:
Hello, welcome to my bedroom! Unlike Abercrombie of decades past, the store does carry my size, but I think mine must be extremely popular. This style (and a few others you'll see M try on below) weren't available in my size; luckily, I already had them tucked away with my jeans at home. These were the first Abercrombie jeans I tried that started my love affair. You'll notice they look a little different than the ones above, and that's because I chopped off the bottoms. I love everything about how these jeans fit: the waist, hips, butt, thighs, the straight leg—they're a dream I never thought was possible.
… But the full-length is something I just cannot get behind. I'm 5'5, but pretty much all of my height is in my torso, so these touched the ground a little too much for my liking. I could only really wear them with heeled booties. But I liked every other thing about them, so I gave them a raw hem and chopped them off to be a better length on me (just at the ankle). If I order these again, I'll probably try the "short" variation to see if that hits at a better length on me.
Sizing
True to size, but can be worn one size up for a looser fit
These are one of Abercrombie's newest jean styles, and honestly, they already are some of my favorites. They're are incredibly soft and lightweight, and are so comfortable that you forget you literally forget you even jeans on. I was sitting on the couch cross-legged in them for part of my afternoon and literally didn't think about it because it felt like I could have been wearing sweats. They have that relaxed, loose effect that's coveted, but super hard to find. After getting one pair, I automatically ordered them in another color. Mark my words, I think these are going to be Abercrombie's new most popular jean style.
Sizing
True to size—your regular size will have a naturally loose fit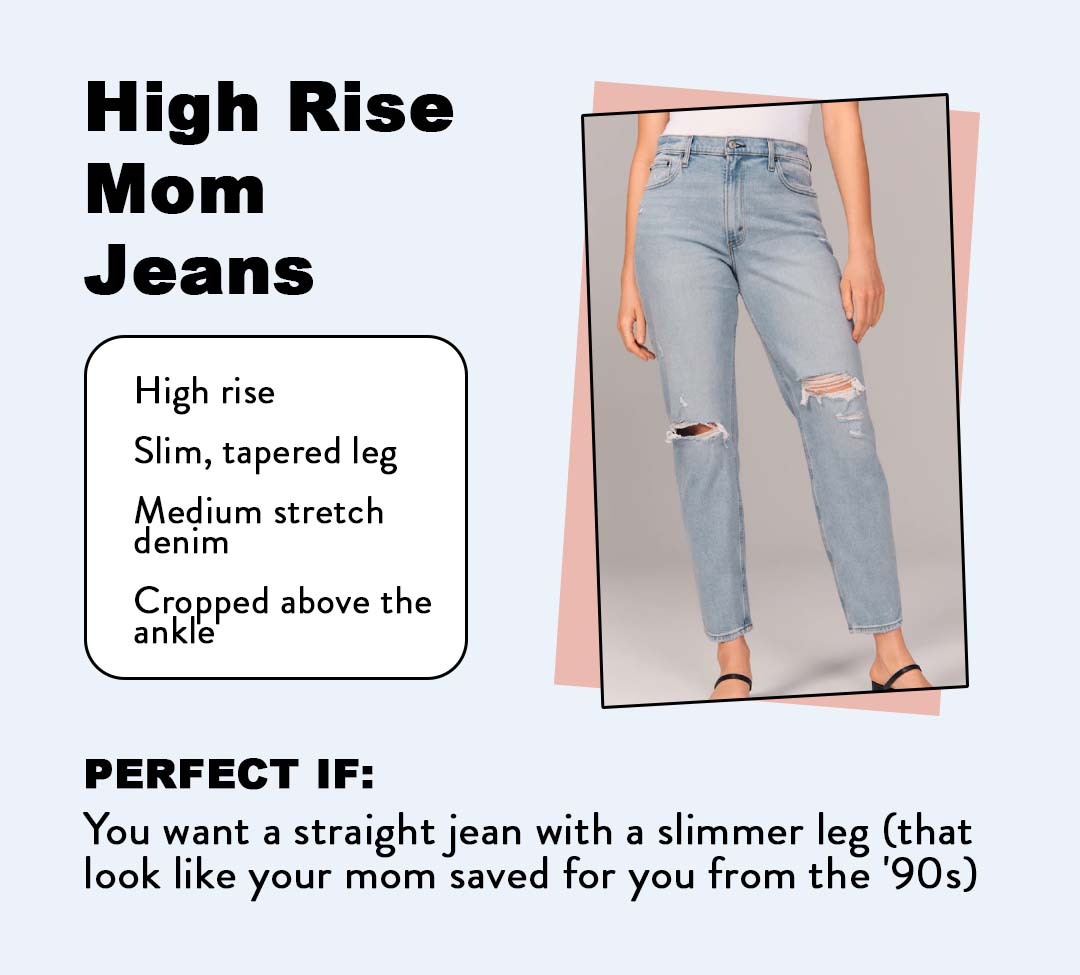 If you're looking for a truly vintage-looking jean, this is it. They have the feel of a pair of jeans straight out of the '90s, and a fit that's ultra-flattering (especially in the butt area). The tapered leg makes for a slim fit that feels like they cool any outfit you pair them with up a bit, and the pleated detail makes them feel elevated from your regular ole' pair of jeans. They have a traditional, vintage feel with a material that's substantial, but still has some give and feels comfortable.
Sizing
True to size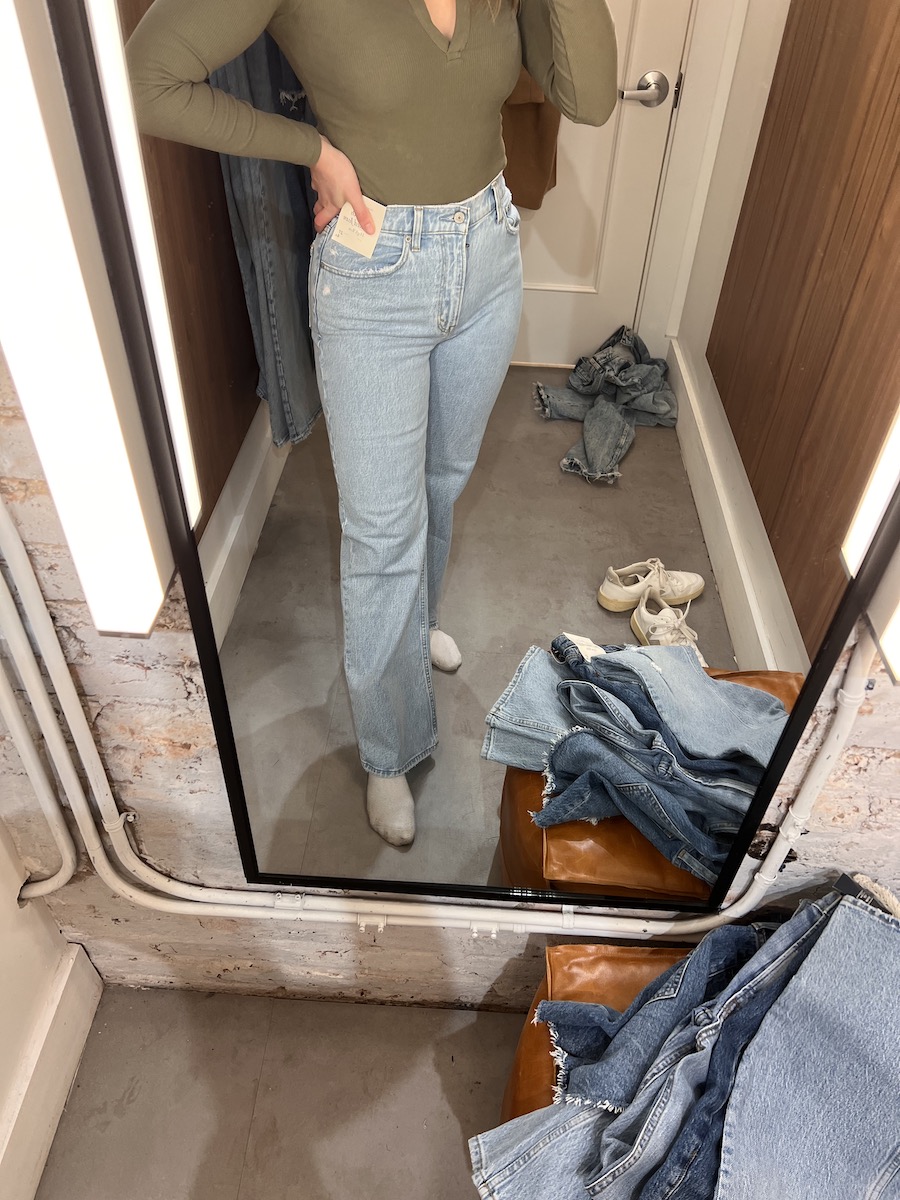 M:
I've been absolutely dying to try these and am so glad I finally did. While I thought they'd be the same as the aforementioned '90s high rises that I love so much but in a more flexible fabric, I was wrong.
If I had to describe these, I'd say they're a hybrid between a straight and wide leg jean. They are a liiiiiittle wider on the leg than a classic straight jean, so if you need a little more room in the thigh (me) they're a really great option. Them being called the effortless '90s jean is really on the nose because they do just feel more effortless than my regular jeans. I think these are an amazing summer jean and just look cool.
B:
I did not try these because they didn't have my size in the store, but I am ITCHING to.
Sizing
True to size
M:
I'll tell you one thing: I own several pairs of these jeans and have worn them truly to absolute death. I'll say it until I die: Everyone should own a good skinny jean. They're necessary for so many outfits (especially with boots).
These are truly the perfect skinny jean. They have a little give without being stretchy (which is never good in a skinny jean since it'll make you end the day with a saggy butt). I find them to be both extremely comfortable and extremely flattering. They also hit right above the ankle which is exactly how I want my skinnys to fit.
B:
Ah, ole ye' faithful. I haven't put a pair of skinny jeans on my body since, IDK, '18? Listen, I'm not an anti-skinny-jean Gen-Zer, but I'm accustomed to appreciating the feeling of jeans not touching my calves. While trying these on, I was reminded that skinny jeans are often made of a very stretchy fabric, which is something I absolutely despise in jeans. Give me your stiffest vintage Levi's 501s over a jean that resembles that of a middle school jegging. With that said, I was able to size down in these as long as I opted for the curvy line.
A crisp pair of white skinny jeans has a high order to live up to, and these were truly lovely. If I needed a pair for an event, I wouldn't hesitate to pick up these. They weren't see-through at all (and I was wearing bright pink underwear), and I felt like they kept their shape well. I believe these are specifically the skinny ankle jeans, and the length was perfect on me.
Sizing
True to size, but if you're between sizes, size down
M: 
If you choose one single time to listen to me on this site, believe this: You should not be afraid of these jeans just because it says they are low rise.
I think for those of us who grew up wearing Abercrombie jeans to middle school that had about two inches of fabric between the crotch and the waist, we think low rise are much lower than they really are. These are not that low—they just aren't high rise. I actually would say that they're just more of a regular waist. And in this style, I think that the high rise would look off. The combination of the lower rise with the wider leg of the jean that flares slightly at the bottom feels very vintage in more of a groovy way. I would wear the absolute heck out of these in the summer with a T-shirt and sneakers.
B:
I really didn't know what I was getting with these. I so, so badly want to get in on the low-rise trend, but I'll need to embrace my insecurity around my stomach first, and that takes a little time. So, I figured these would be a good way to dip my toes in. To my surprise, they came out as my second favorite (ya know, just behind the ones I wore to the store, lol). I could see myself wearing these a lot in the summer or to work-from-home because they were so comfortable. Obviously, I need to opt for the "short" in these, but in my next online order, 'ur coming home with me.
Besides the whole "my mid-section is hanging out there for the world" of it all, I feared checking my butt in the mirror. Do you remember the look of a low-rise bootcut jean from Hollister circa 2007 where the pockets were practically lower than your butt? It gave such a peculiar look that I do not even remotely want to go back to. I am pleased to say that these do not give me that at all. In the booty area, these fit just as well as my other favorites. "Baggy" made me think these wouldn't hug my butt, hips, and thighs, but that's definitely not the case.
Sizing
True to size
Our Fashion Editor Found the Best Faux-Leather Pants—and They're Under $100