There's a difference between people who like food (who doesn't?) and those who live to eat. I'm talking about the kind of people who treat a new restaurant opening like breaking news, have a stash of condiments to rival your local grocery store, and take the time to plate every meal like Gordon Ramsay himself is breathing down their neck. These folks take their food seriously, which means their kitchens are probably already stocked with the latest kitchen gadgets and all the cookware they could need. So how are you supposed to find the perfect gift for the foodie in your life? Don't worry—we've got you covered with all sorts of ideas for unique foodie gifts, ranging from practical kitchen tools they haven't tried yet to specialty treats they'll want to devour immediately.
Whether they're a home chef, a Great British Baking Show-level baker, or just someone who loves to eat, these foodie gifts are *chef's kiss.*
Our Place
If they already have and love the internet-famous Always Pan, this latest offering from the Our Place brand makes a great follow-up gift. Called the Wonder Oven, this countertop appliance can air fry, bake, roast, toast, reheat, and broil—all with the help of steam infusion that cooks food faster with less oil needed.
Brightland
For the foodie who knows that the right oil and vinegar make all the difference, the Mini Essentials kit from Brightland includes four of their best-selling olive oils and vinegars (and the cute packaging means no gift wrapping is required!).
Hedley & Bennett
This chef-beloved apron is a must for anyone who tends to get messy in the kitchen. It features multiple pockets and a utility loop for all their kitchen gear, as well as a cross-back design that takes pressure off the neck.
Five Two by Food52
Frequent trips to the grocery store or market can add up to a lot of plastic produce bags. For a more sustainable solution, gift them these organic cotton produce bags that can be washed and reused over and over to carry fruits, vegetables, dry goods, and more.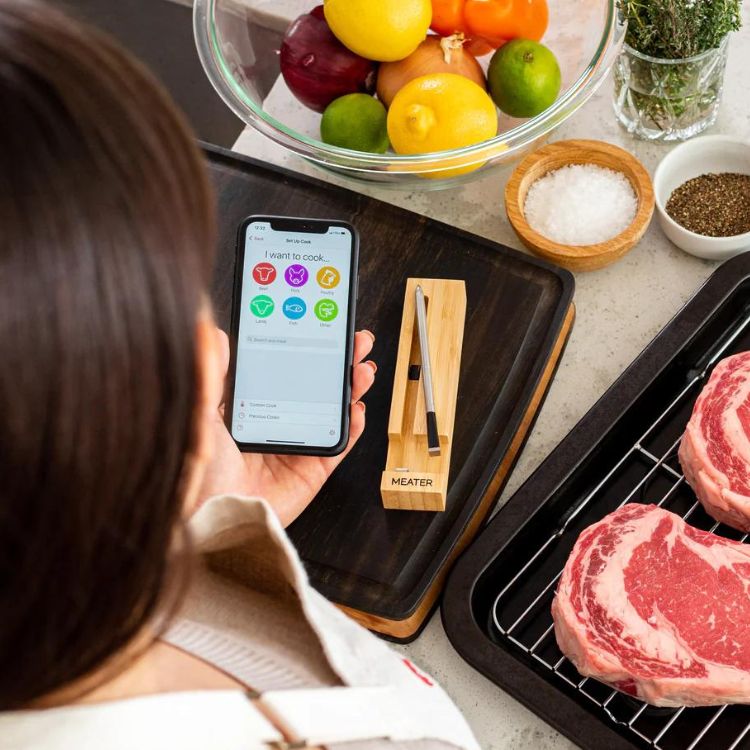 MEATER
For the grill master in your life, this smart meat thermometer lets them monitor cooking temperatures completely wirelessly. The app can also estimate the remaining cooking time and suggest when to remove food from the heat.
Amazon
A fancy battery-operated pepper mill may seem like a bit much, but any foodie knows that you can't beat the flavor of freshly ground spices. This one lets you easily grind whole spices with one hand and comes with interchangeable pods for different spices.
Dan Pelosi
Filled with over 100 Italian-inspired recipes accompanied by heartfelt stories on how they came to be, this cookbook by Dan Pelosi (AKA Grossy Pelosi for his fans on Instagram) will warm both your heart and your belly.
Bee's Wrap
Say goodbye to single-use plastic wrap with this natural alternative made from organic cotton and responsibly-sourced beeswax. These wraps form a seal around fresh produce, cheese, baked goods, and even dishware so you can easily keep food fresh without the need for plastic.
Etsy | ForeverEtchedGiftCo
Nothing says "thoughtful" like a personalized gift. Engrave their name, initials, or a custom design to this cutting board and they'll be sure to think of you every time they use it.
Maldon Salt Company
Yes, this is literally just a bucket of sea salt, but let me explain. This is the crunchy, flaky, fancy kind of salt they'll want to sprinkle over everything from salads to roasted meats to desserts. It might just become their most-used ingredient, and with a bucket this big, they'll be set for the next year.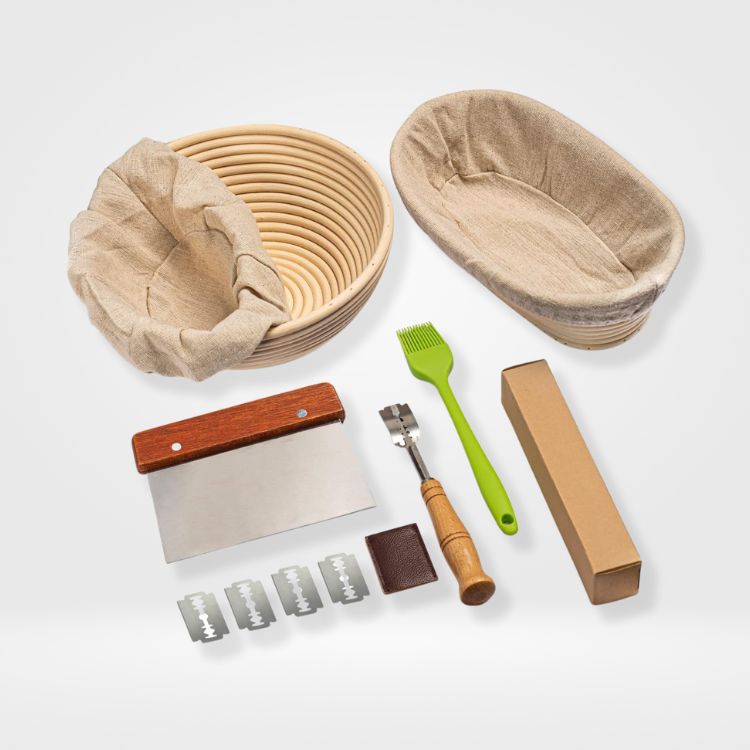 Amazon
For the person who never got over the bread-baking craze of 2020, this kit includes everything they need to turn out bakery-worthy loaves time after time.
Baublebar
Gift this charcuterie board-inspired ornament to the person on your list who considers cheese to be a major food group. Crafted from real wood and tiny metal adornments, it's one they'll treasure year after year.
Crate & Barrel
When it comes to butter, the French really know what they're doing. By using water to create an airtight seal, this French-style butter keeper safely keeps butter at room temperature so it's always soft and perfectly spreadable.
Gaby Dalkin
From the blogger behind What's Gaby Cooking, this cookbook is loaded with feel-good recipes that celebrate the joy in cooking and will have your mouthwatering as soon as you crack it open.
Mike's Hot Honey
For anyone who likes a little kick to their food, Mike's Hot Honey is a must-have condiment. This chile-infused honey is perfect for drizzling over pizza or meats, adding some spice to your charcuterie board, or even stirring into cocktails or tea.
Ooni
Although it's definitely a splurge, this pizza oven is the kind of gift any foodie would dream about. It can turn out an authentic restaurant-style pizza with the perfect amount of char in 60 seconds flat.
Boarderie
The perfect gift for a foodie is obviously something they can eat. This fully assembled charcuterie board contains 17 different artisanal ingredients and ships overnight to ensure everything is fresh and ready to devour on arrival.
Amazon
Every foodie knows the importance of cooking with fresh herbs, and this kit will allow them to grow their own, even in the dead of winter.
Food Huggers
For the foodie who loves avocado toast but doesn't love brown avocados, these silicone sleeves will keep their avocado halves fresh for longer for the perfect ripeness every time.
Amazon
Sharp knives are a key part of any kitchen arsenal, and this sharpening stone makes it easy to keep knives in top shape. After all, a sharp knife is safer than a dull one!
Williams Sonoma
For the home cook who wants to take their skills to the next level, this old-fashioned, Italian-made machine includes two pasta rollers to make delicious linguine, fettuccine, and more.
Five Two by Food52
Level up their baking game with a rolling pin that takes the guesswork out of rolling out dough. With built-in measurement markers and silicone rings to adjust the height, it'll make sure they always roll out dough in the perfect size and thickness.
Target
Every serious baker needs a spot to show off their creations. This cake stand will make any baked good look professional, while the glass dome keeps everything fresh.
Milk Bar
Anyone with a sweet tooth will love receiving this gift box of bestselling treats from the famed New York City bakery Milk Bar. It includes six different types of cookies, two types of truffles, and a slice of their fan-favorite pie, so there's surely something to satisfy every craving.
25 Edible Gifts to Send to Your Friends This Holiday Season