This new design by HED reflect's Taft's commitment to its clients and employees through providing a welcoming, flexible, and amenity rich space.
Taft defines itself as the modern law firm. When the time came to consider a move from their existing office in the iconic Mies Van der Rohe building in Chicago, IL, expanding to a new floor, rather than relocating, was the logical choice to accommodate the ever-growing firm. The existing space had two-toned figured wood paneling, fluted frames and a two-story spiral staircase with spindly railings and heavy wood paneling dating back to the 90s. Taft enlisted national architecture, engineering and design firm HED to renovate and expand the office to reflect a new image of the modern law firm and its progressive, forward-thinking brand.
HED's design team ensured the renovation reflected Taft's client-first mindset through the addition of a client experience center with iconic views of Michigan Avenue, the Chicago River and the lake. Looking to host an array of events from social hours to depositions to presentations by prominent political figures, the space is flexible, welcoming and highly branded.
To celebrate their outstanding workplace culture, the renovation also provides outstanding amenities, an office for every attorney and an impactful way to connect all three floors. Taft takes pride in having an empowered, geographically dispersed management team composed of leaders from every practice group, and the new space brings their diverse practice groups together and enables them to collaborate more readily.
The completed workplace redesign reflects Taft's commitment to its clients and employees through providing a welcoming, flexible, and amenity rich space.
Project Planning
HED held preliminary meetings with end user groups when programming and designing the space. Because the project included expanding the office to another floor, a unique design requirement HED faced was extending an existing two-story staircase to a three-story staircase, which included ample coordination to align both segments of the large spiral staircase. The existing stair structure from the 27th to 28th floor was reskinned and extended down to connect to the 26th floor.
Project Details
The iconic "slash" that is part of the Taft logo was used as inspiration for several elements of the design, from the flooring pattern that guides people through the space, to the canted flutes on the walnut paneling- which are an homage to the firm's history and heritage.
A lounge outfitted with hidden technology and furniture on wheels allows the space to be multi-functional and flexible, and a sculptural stone and metal bar is connected to a catering pantry for hosting evening events.
All interior offices feature full glass fronts to take advantage of borrowed light and to make the attorneys more connected with each other. A new employee café features biophilic elements and is used to host staff celebrations and social gatherings.
A new opening in the floor slab was cut to accommodate an extra level to the staircase and to connect all three floors.  The existing staircase was re-imagined with a minimal aesthetic in mind, with curved glass railings, walnut stringers and black metal accents that play off the building exterior. The staircase is the heart of the space and serves to bring together the practice groups assigned to different floors. A 10-foot custom light fixture follows the spiral shape of the stair and is a modern interpretation of the traditional chandelier.
Products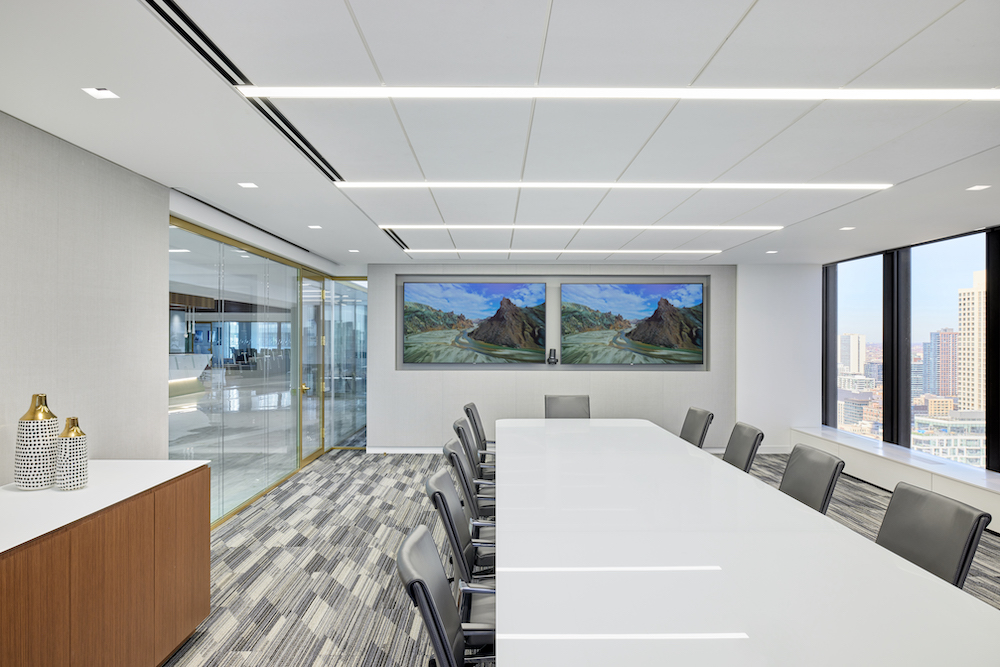 Overall Project Results
The Taft law office expansion was completed over 5 phases and the end result demonstrates HED's reimagining of what a new law firm could be in 2023. HED ultimately transformed an outdated, 1990s law firm into a high end 2023 office space that better reflects Taft's company culture and client offerings.
Project Summary
Syska – MEP and low voltage Engineering Design
SGH – Structural Engineering
Valenti Builders – Construction Manager, GC
Pricemodern – Furniture Dealer
Design Team
Photography credit